The first image from the Huygens probe on Titan shows the surface of the moon of Saturn: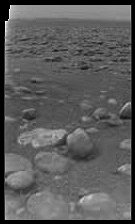 Some remarkable factoids about the mission:
Although it is a moon, Titan is larger than Pluto, and has lakes of liquid methane (we seem to be seeing one in the picture).
It took seven years for the probe to travel from Earth to Titan.
Because not enough sun is available to power cells, the probe is powered by batteries, which were only designed to last a few minutes.
The batteries lasted a few hours anyway!